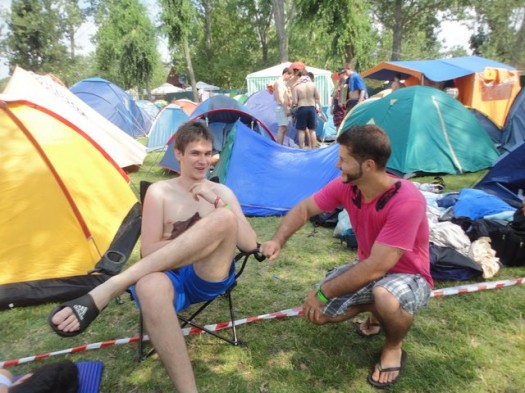 The EXIT rock music festival in Novi Sad, Serbia, was originally designed in 2000 to be a way of escape or "exit" for Serbian youth from the then existing system of old Yugoslavia under Slobodan Milosevic. We had our first experience counseling youth at the EXIT festival after moving from Kosovo to Novi Sad in 2004. From its humble beginnings, EXIT fest has gained much popularity across Europe and has since become one of the most popular summer festival destinations for tens of thousands of European youth. http://en.wikipedia.org/wiki/Exit_(festival)
Unfortunately, such rock festivals also attract drugs, alcohol, other forms of substance abuse, and of course a wide variety of lost youth who resort to such activities in search of something more from life.
For EXIT 2012 we invited a young team from South Africa that was already in Europe conducting seminars in various countries to come join us for this important event. We were very happy when they agreed to come in spite of several obstacles facing them such as the need for expensive visas on short notice, additional travel funds, and suitable air fares/connections for their large team of 7 people.
During our 10 days together we counseled and witnessed to young concert-goers in the EXIT village camping, the popular picnic/beach area Strand on the Danube River, and on the streets of Novi Sad. We also had healing seminars for our local friends, contacts, and a Serbian youth group that was made up of young people who were facing turning points in their lives.
To view the following photos on Healing Hearts Balkans Facebook page click here.
[fpphotos id=423355744369318 ]