Posted
We recently returned from a 2-month long trip to deliver humanitarian aid and a message of hope to refugees in southern Europe. As the temperatures of spring began to increase, so did the waves of new refugees that were attempting to reach Europe  from the Mideast and Africa. We were again carrying a van full of high quality Finnish shoes that had been donated by the same company that had given to us before our trip last fall. This time they gave so many pairs of shoes that we could not even carry them all! Then when we arrived in Hungary, our good friend who has been helping with humanitarian aid for over 15 years gave us over 700 T-shirts and polo shirts to take to the refugees in Serbia.
We were also thankful for the opportunity to again visit Romania on this trip and distribute aid to several orphanages and to many poor families in the Romanian countryside. Our goal is to help those in need wherever they may be found, and we are thankful that we were able to once again be God's hands of supply to so many.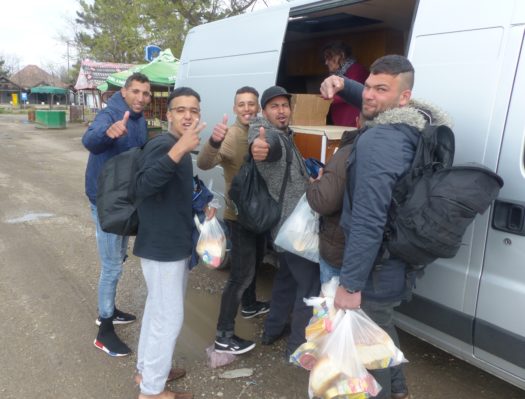 Photo: Refugees from the Mideast stuck at the border of Serbia and Hungary, thankful for the aid we were able to give to them.